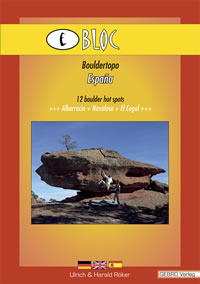 Looking for a good bouldering destination with stable weather this winter? Come here to Spain and try some of our excellent bouldering areas! With the guidebook E-Bloc you get a good introduction to some of the best areas down here. These areas are covered:
Targasonne (Selected climbs only)
Savassona
Sant Joan de Vilatorrada
Belianes/Malda
Cervia
El Cogul
Albarracin
La Pedriza (Getting there & Situation)
El Esorial
Zarzalejo
Burguillo
Navalosa
I bought some of these books this spring and I still have them here in my office. In the UK they sell for £27 (32,50 €) but from us you get it for 25 € + transportation.
If you are interested, send me an e-mail and I'll calculate the total cost: par@climbinspain.com