This year autumn seems to have no intention to arrive… here in Catalonia we still have a lot of sun and days with 23 degrees at noon…
Well, that's not bad to have a relaxing day on the beach, or… to enjoy climbing in the shade in nice places like Camarasa for instance!
Considering the good weather forecast and taking advantage of the kindness of a friend who offered us her house for staying a couple of nights, last weekend we decided to head to Camarasa and discover the relatively new sector Cingles de la Llum. The sector is a beautiful limestone strip with about 30 routes from 6a+ up to 8a. Most of them are between 6b+ and 6c+, have 20 to 30 meters length and very good rock. The topo of the sector is included in the new edition of the climbing guide Lleida Climbs, and you can also find a hand made drawing on this blog.
At this time of the year the sector has shade until 3 or 4 p.m., depending on the route. Just perfect for climbing in the morning.
With less then 2 hours drive from Barcelona you reach the small town of Camarasa, pass it through, but don't forget to make a quick stop at the bakery "Forn de Pa Capdevila" (just before driving out of the village, on your right) and buy some delicious cake or bread (not to be missed: the typical catalan "coca de recapte" with tomato, meat and pepper, and different kinds of sweet "cocas").
About 2 km after the village, just before taking a rough curve on the left and crossing the bridge over the river Segre, turn right on the road which leads to the dam. Park at the end of the road and take an evident path which goes up to the crag following the electricity towers. You reach the sector in about 10 minutes.
We decided to have a relaxed but effective day of climbing and started climbing all the routes from the right to the left: L'illuminat, 6a+ (beautiful and technical dihedral), Llum del Nord, 6b+ (super fun and very long route on good holds, not to be missed!), La Via del Oscar, 6c (beautiful and recommendable), Hot Pot, 6c+, (also very good and not harder then the 6c), Ni Hao, 6c, and finally the vertical and very technical El Cau del Xoriguer, 6c+ (interesting balance moves on small holds).
Ended up tired but happy, having covered a distance of at least 150 meters rock!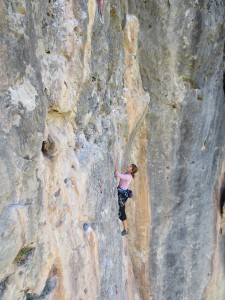 The day ends with a good cold beer at the bar Can Pere, talking about routes and crux moves with some friends who were climbing at different sectors such as La Selva or La Font.
If you want us to arrange a guided climbing trip to Camarasa or if you  are just interested in good lodging options around this area, please send us an e-mail!
info@climbinspain.com