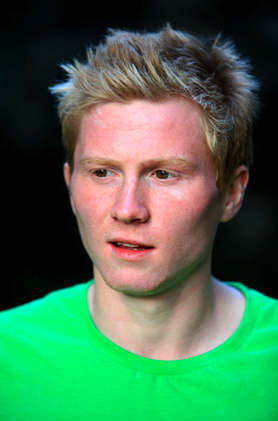 Name: Magnus Midtbø (22), Family: Mother, Father, 2 full sieblings, and 2 half sieblings. Girlfriend: Sasha Digiulian, Lives: Norway/USA/Spain, Sponsors: Mammut, Frictionwalls and AAK.
The Norwegian Magnus Midtbo (22) is without a doubt one of the world's top climbers at this point. Just recently he did the ss to Ali Hulk extension, 9b (video here), and he has been lining up onsights of 8b+s and 8bs. The key to success appears to be systematic and varied training where one muscle group rests while you train the others (where few rest days in other words). Magnus also have several successful competition results to look back on (Junior WC champ in 2005, 5th place World Cup Kranj 2007, Nordic Champion five times, etc.) but lately the focus has been switched to the outdoor scene, and particularly to climb in many different places and on on different types of rock. His favourite area however is the North Eastern parts of what most would refer to as Spain (sorry to the Catalans) since the area offers endless possibilities for the very best (and for the rest of us as well by the way). Magnus is currently dating the talented Sasha Digiulian (18) from the US who like Magnus is climbing very well these days. Since Saha is still finishing school Magnus recurrently visit her back home giving him the opportunity to test some of the US climbing. Over there Red River Gorge has become a favourite spot. As the autumn issue of the Swedish magazine Bergsport was on the way I emailed Magnus with a short questionnaire:
Do you live for climbing or are there other important interests?
I'm doing some courses via the internet and of course I spend a lot of time with my girlfriend not climbing. She still has a year to go in school. But after that we will both just travel and climb for a while, mostly in Europe.
Would you call it a way of life?
Absolutely. Everything in my life evolves around climbing. By living this life I have learned so much more than just climbing. I couldn't even imagine how my life would have turned out if there wasn't climbing, but one thing is for sure – it wouldn't have been as exciting! I am really fortunate for having climbing in my life. Everyday is like a big adventure and I have no idea if it will ever stop.
Are there periods when you struggle with climbing?
Like everyone I go through periods when I have a hard time to motivate myself. It's normal. If I can't find the motivation I don't climb. Although I feel that I am making progress the curve is not straight. Sometimes, especially during competition, I feel really low. I guess its because competing is even more psychological than outdoor climbing. Not to mention that the other climbers are getting stronger every year. I have to admit that I have thought about stop competing for good. There is a Norwegian saying that goes: the important thing is not to win but to participate. To me that's bullshit, with such an approach you will never win. Competition is fun when you do well and I think it's the same for everyone. I compete to do well and hopefully win, not to get experience.
Inside or outside?
Outside for sure. Before I use to think that the only way to get stronger was to climb on plastic but being in Rodellar a few weeks climbing continuously changed my perspective totally. I have never been in better shape than right now. How well this will transfer to when I compete I don't know but everone knows that it is what you climb outdoors that really matters.
Favourite memory:
Grønn var min barndomssalat, 7b+, in Loddefjord (my first 7b+). Never since have I had a better feeling, which shows how climbing is equally challenging at all levels.
The last couple of years you seem to be continuously improving and rarely injured. How do you explain this?
The last eight years I have had a total of seven days of rest from training (not just climbing). I think a mistake that many make is to begin with intensive and hard training after long rests or when they start. The reason that I have escaped long periods of injury is that I rarely push mi limits but try to adjust the training to my current body status and then increase the intensity with time. Hence for more than eleven years now my body has slowly accommodated to harder and harder climbing. Another important aspect is that I vary my training, including weights and different types of cardio to keep my body overall fit.
What is your preferred type of climbs?
Long and relatively easy climbing over several rope lengths give me that special feeling. Ha ha, and of course climbing "soft" routes in Spain:)
Do you bolt routes yourself?
I do some but definitely not enough. Hopefully I will get the time to do more bolting in the future. I have bad conscious for not equiooing more new routes. Moreover there is no better feeling than sendinga route you've bolted yourself. Especially if it is a hard one!
Projects and dreams?
A dream I've had for some time now is to bolt some new really hard routes in the Flatanger area (Norway). There is so much potential for hard routes. I'm also involved in the making of a Norwegian climbing movie (more at; madeproductions.no).
Are you constantly roadtripping or os are you travelling more sporadically to different areas?
I prefer roadtrips. What I hate the most in this world are airports – the standing in line and general formalia involved. Roadtrips are so much freer. I use to have a Ford Connect that I was really pleased with. Also I have realised that if you go on shorter trips like I used to you never have time to get use to the new style of climbing. It is basically impossible to climb something hard having only one or two weeks to do it.
In Norway big wall is quite popular, is this something that also fascinates you?
Indeed it does. In time I will do more big wall climbing. I have always thought about doing more of that type of climbing when I get older and I can't perform at the top level any longer.
A classic, any advice to the mortals?
Of course. Begin slowly and let your body accommodate to climbing in its own pace. This may also make it easier to keep motivated, which is the most important thing if you want to keep improving. And importantly motivation must come from the inside. I have seen several cases where parents take to big a part in their children's "careers", no different from football parents standing on the sideline screaming. Let children and beginners explore climbing on their own.
Carl Johan Svensson