In collaboration with rockbusters
The Spanish Road Trip has already become a classic for rockbusters people — every year at springtime they offer you the great opportunity to get to know the best crags on an exciting trip on the road. You'll get in touch with real Spanish climbing lifestyle, enjoy the best Spanish rock from excellent limestone, to sandstone and conglomerate, and taste all the climbing styles, from vertical fingery lines in Siurana or Montserrat to overhanging boulders in Albarracín.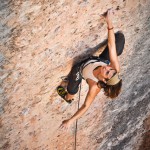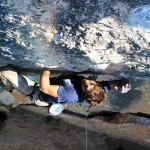 The professional climbing guides from rockbusters will introduce you to extraordinary climbing areas all around Spain and will provide you with excellent guiding, performance coaching and great climbing company.
You can join the trip for as long as you want. At the weekends they always stop at a nearby airport to drop off and pick up clients who can't do the whole trip.
Price per person: €499 for 1 week
What's Included:
6-28 days of guided climbing at different crags with our climbing guides from Rockbusters
Accommodation at campsites, refuges or hostels
Transportation
All the climbing gear, except climbing shoes
What is not included in the price:
Your travel and climbing insurance: make sure you have a policy which covers you during your climbing trip (some useful advice about travel, climbing & insurance here)
Flight tickets: book your flight as soon as possible to assure you the best fare!
Food and drinks
Climbing shoes: we provide all the climbing gear (rope, quick-draws, belay devices, but not the climbing shoes). We suggest to bring your own harness.
Extras:
Possibility to book a common dinner for the group (€ 10 per person)
Next trip scheduled: from April 04, 2015 to May 02, 2015.
For bookings and any additional information about the trip, please send us an e-mail!
info@climbinspain.com