Our offer (in collaboration with rockbusters.net):
One week climbing trip to one of the best crags of the Costa Blanca.
Our package includes:
7 nights stay at our welcoming Casa / Refugio Font de l'Arc
6 days of guided climbing at different crags in the area with our climbing guides from Rockbusters
Possibility to climb multi-pitch routes (to be agreed with the local guide)
Transportation from/to the airport Alicante on Saturday
Climbing gear (except climbing shoes)
Extras:
Airport pick up on a different day (+€ 25)
Possibility to book a homemade dinner at our Refugio (€ 10 per person)
Possibility to book two weeks (contact us for price info)
What is not included in the price:
Your travel and climbing insurance: make sure you have a policy which covers you during your climbing trip (some useful advice about travel, climbing & insurance here)
Flight tickets: book your flight as soon as possible to assure you the best fare!
Food and drinks: on our way back from the airport, we will stop at a big mall to buy the basic supplies for the whole week. During your stay you'll be able to buy fresh food (bread, etc.) at the Village of Sella.
Climbing shoes: we provide all the climbing gear (rope, quick-draws, belay devices, but not the climbing shoes). We suggest to bring your own harness.
Sleeping bag and mat: the Refugio has a basic equipment, which includes a fully equipped kitchen, terrace, dining room, showers. The dorm is a spacious loft where you will camp with your own sleeping bag and mat.
Price per person:
€ 499 for one week (from Saturday to Saturday)
Next trip: Dates to be scheduled. Arrangement possible throughout the year.
For bookings and any additional information about the trip, please send us an e-mail!
info@climbinspain.com
Sella is one of the main crags in the Costa Blanca region.
This extensive area offers many different types of climbing. Easy and mid grade sport routes are found at the most popular main crags in the centre of the valley, whilst mid to harder grade routes are concentrated in steeper sectors like the famous Wild Side. There are also mostly bolted multi-pitch climbs in Pared de Rosaria as well as entirely traditional routes in Puig Campana. All of this on great quality limestone!
Most of Sella's  routes are up to 30 m of slabby or vertical,  fingery and technical climbing on little crimps and holes.
The Costa Blanca's sunny weather makes it a brilliant climbing destination throughout the year. However, the best time to visit is from September until April. The most popular sectors in Sella have a Southerly orientation which makes them a perfect destination on sunny Winter days. Although the steep Sector Wild Side hardly ever gets the sun, summertime will generally be too hot unless you head for the North-facing crags like Pared de Rosaria.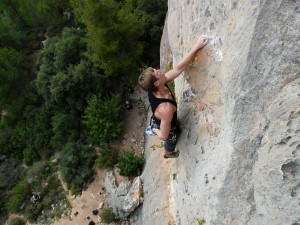 Sella is also very convenient in terms of accommodation, transport and cost. It is only about a one hour drive from Alicante airport. The nearest big city is Benidorm which is only 40 minutes away by car. It is easy to reach the Sella and once there you feel far away from the crowded Benidorm beaches. The Costa Blanca has a wide choice of all types of accommodation according to your taste and budget, ranging from package deals in Benidorm hotels to apartments and villas in Sella, Finestrat and Villa Joyosa. As there is a lot of climbing outside the main valley it is definitely worth hiring a car to make the most of your holiday. Don't forget that in the Costa Blanca there is always an option of spending your rest days on the beach!