Discover one of the best DWS and sport climbing destinations in Europe! Our professional climbing guides from Rockbusters will show you around the area and make sure you will make the best of your days on the island.
Mallorca offers an incredible amount of top quality sport climbing sectors and some of the most famous DWS spots of the world: Cala Varques, Cova del Diable, Portocolom…
This trip is designed mainly for climbers who already have got at least some indoor climbing experience (and know how to belay and tie on) and who want to improve their performance on the rock and get more deeply into the climbing culture. If you like you will be provided with one-on-one coaching to get even more of your stay on the island.
Next trip:
Autumn 2015. Dates to be scheduled.
What is included in the price: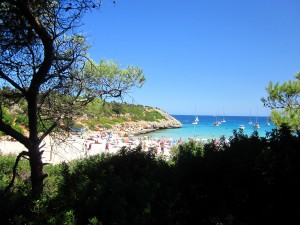 6 days of guided climbing (DeepWater Solo and Sport Climbing)
Accommodation at campsites, refuges or hostels
Transport
Safety equipment – QDs, ropes, harness, helmet but NOT climbing shoes
What is not included in the price:
Your travel and climbing insurance, flight tickets and food are not included in the price. You must bring your own climbing shoes
Price: €599
For bookings and any additional information about the trip, please send us an e-mail!
info@climbinspain.com
About the location: Mallorca
In Spain, Mallorca is known as the best Deep Water Soloing area, although recently it has become a popular destination for sport climbing and those who go there come back impressed by the quality and quantity of the rock. Mallorca has something for everybody: tufas, roofs with big jugs, overhangs as well as cracks and slabs, all difficulties included and all on great solid rock. Sport climbing in Mallorca will definitely carry on growing, as there is a great amount of rock to be bolted.
The western side of Mallorca is where you find most of sport climbing crags, all of them easily approachable from Palma or Soller. Mallorca is a small island and has a good road network, which makes it possible to visit many crags from one base.
You will want to go to the east if you prefer DWS.  Most of the cliffs are situated close to Porto and Santanyí. On this side of Mallorca there are only few sport climbing areas but they are worth visiting as well.
The best time to go is any time of the year really apart from the Summer. This is when Mallorca becomes packed with people and far too hot. If you avoid summertime, you will visit a lovely quiet island with mild weather. The only problem is the humidity so you will have to get used to a little worse friction on humid days.
How to get there? Book this offer, fly to Palma de Mallorca using one of many low-cost airlines, hire a car and start enjoying this magnificent island!