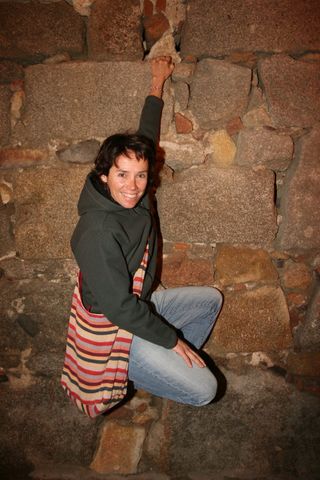 Hi everybody, I'm Lisi, the rock-climbing guide that will help every time you come to Catalonia! Apart from climbing I spend winter season up in the mountains trying to ride good powder. However, in this country, is possible to climb in good conditions almost during the whole year… so, if there isn't not much snow we just stay on the rocks. Not a bad option!
Our base camp, Cal Sant Miquel, is just perfect for a comfortable climbing trip, a typical Catalan farmhouse rehabilitated, warm, close to many great spots and easy to make you feel like home. Basically, we love outdoor life, nature and environmental respect.
We planned all this thinking about these people that doesn't want to worry about nothing else but climbing and enjoying their free time .
Our proposals cover basically the best climbing places around Catalonia, we offer to do climbing courses or just to drive you there, giving you all the information and possibilities for you, as a climber or just as a beginner. Our courses will try to fit each one of the different levels and needs that you may ask. You just have to ask for it and we'll do our best. For our rest days we can visit those wineries that produce such a great wine while we enjoy the weather and the easygoing people, the towns, Barcelona or maybe even our beautiful beaches!
If all this seems to you a good idea, look through the menu and just choose the best option for you… we'll be waiting!
HAVE A GREAT AND HAPPY NEW YEAR 2011!!